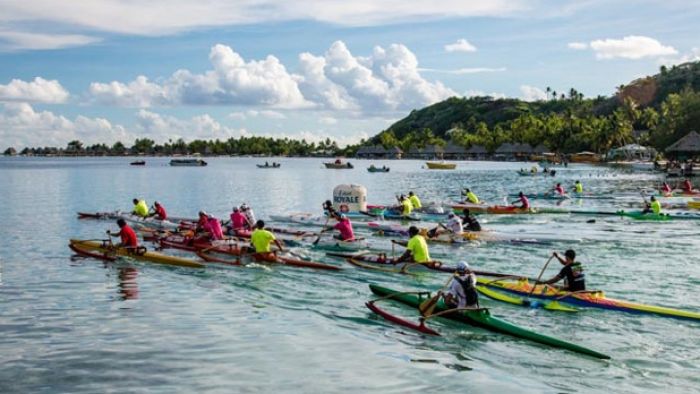 Created in 2000 by aquatic athlete Stephan Lambert, Bora Bora Liquid Fest has become a way for paddle boarders and water lovers to engage with Tahitians, for whom water is the defining fact of life. Each year, athletes from California, Hawaii, Australia, New Zealand, and French Polynesia flock to a pristine lagoon on the remote island to swim, canoe, and paddle in the lead-up to Ironmana, an epic ocean race that requires participants to row an outrigger for 36 miles before swimming six miles across a lagoon and paddle boarding another 25. The winner can declare himself waterproof.
The serious athletes and ambitious amateurs who flock to the island to take on the challenge also have the chance to hang out with some of the 2,000 natives who turn out for the event. Foreigners leans about Tamure dancing and local paddling methods. The event may make Bora Bora – however briefly – the center of the growing standup paddle-boarding universe, but islanders have older ways of interacting with and cutting through their pristine seas. The festival is a great way for visitors to this verdant island, best known for its resorts, to appreciate and emulate an intimate relationship with the sea.
This year's festival, which began Monday, was sanctioned by the World Paddle Association, which was eager to add a bit of credibility to the outrageous competition. As part of the current celebrations, three-time Pan American Games Gold Medalist Alex Kostich will swim around the island. He's encouraging locals and visitors renting outriggers to follow in his wake. That swim, equal parts celebration and athletic feat, is a microcosm of Liquid Fest, which turns a lagoon into a celebration of the ocean and everyone in it.
More information: Liquid Fest 2013 will offer sailing, canoeing, standup paddle boarding, and open-water swimming lessons. There will also be beach barbecues at local hot spots, sprint races, distance-swim competitions, beach marathons, and, of course, the Ironmana. Air Tahiti Nui flies to the island from Los Angeles.
back to top