Let's Eat: San Diego Edition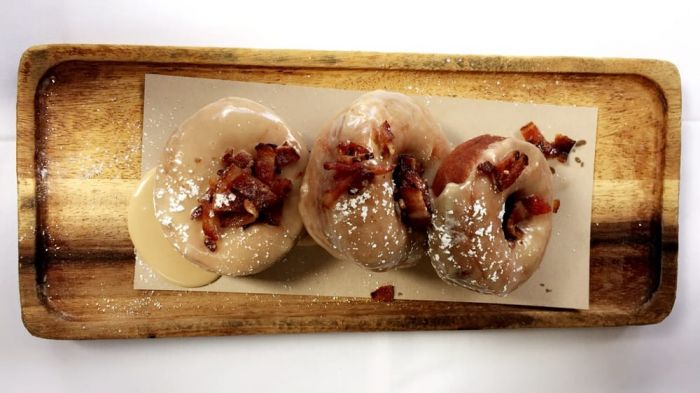 San Diego has a well-deserved reputation for sun, fun, and sandy beaches, but did you know it's also becoming a destination for foodies? If you think the culinary elite stop and stay in LA, it's time to revisit the gem of fine dining 120 miles down south. Chefs, master brewers, mixologists, and more have been flocking to the beachy paradise for the last decade, resulting in a beautiful fusion of cuisines. San Diego has been gaining momentum for the past few years, with niche neighborhood bistros, food trucks, and inventive flavors that keep locals and tourists intrigued. With a smaller, more intimate chef base, knowledge is freely shared and friendships are forged, making it more than just an industry--it's truly a community.
We pulled together some of our must-visit spots for breakfast, lunch, and dinner. So put on your stretchy pants, grab some sunblock, because we're about to head down south to explore the flavors of San Diego.

1. Great Maple: Breakfast
Located in the charming, walkable North Park neighborhood, Great Maple elevates the normal breakfast fare with vegan offerings, Challah bread French Toast, smoked beef brisket pop-overs, and Fruity Pebble pancakes. If you're in the mood for a morning libation, their Bloody Mary's are becoming famous, both in size and quality (including the Hangover Special, which comes garnished with a piece of cold pizza.) The atmosphere is cozy, intimate, and often crowded, but efficient service and a friendly staff make it worth your while. Our favorite part about Great Maple? Complimentary coffee while you wait.
2. Local Krave: Breakfast, Coffee and Tea
Open from 6am until noon, this quaint cafe is the perfect place to start your day. Their outdoor patio offers breezy views and lots of opportunities for dog petting, while the relaxed service welcomes you to stay and enjoy. Their menu is limited, but everything is mouthwatering. From fresh fruit packed acai bowls to avocado waffles to croissant sandwiches, Local Krave has gotten a healthy breakfast down to a delicious science. For Paleo eaters, be sure to check out the Kraveman coffee, which is made with coconut oil and butter. It's a little on the heavy side for standard coffee drinkers, but a delicious and unexpected treat.
3. Carnitas Snack Shack: Lunch
From the outside, it's not a fancy place. It's just a little shack with a cute pig on top. Once you step inside and inhale the aromas of freshly pulled pork, tangy sauces, mouthwatering burgers, and bacon, you'll realize you've found a magical lunchtime oasis. The Carnitas Snack Shack is casual dining at its best. There's sunny outdoor seating, friendly staff, and complimentary beverages that help wash down the long wait. Don't forget to order fries, chips and guacamole, and at least one taco--you won't be disappointed. To mitigate the long lines, you can call ahead and place your order, pick it up, and head straight to their back patio for a relaxing lunch break.
4. The Prado at Balboa Park: Lunch
Yes, this area can be touristy. It's within walking distance of the San Diego Zoo, Balboa Park, the Gaslamp, and downtown San Diego, but hey, just because a spot is popular doesn't mean it should be avoided. In fact, The Prado is one of the most beautiful spots to grab a bite and some to die for sangria. Their menu is ever changing with the season, but you can always expect to find savory tacos, meat and veggie skewers, juicy burgers, and crisp salads. The food is fresh, well-seasoned, and served with pride. The Prado is known for their legendary staff, so no matter what time of day you pop in, expect to be treated like family.
5. Pokez: Dinner
It's hard to find bad Mexican food in San Diego, and even easier to find truly outstanding Mexican food. While there are dozens and dozens of places to chose from, my favorite is the downtown Pokez. Dirty, crowded, and loud, this place has energy. They also have the absolute best potato rolled tacos you can ever hope to snack on. Be sure to arrive early to avoid the crowds, and bring your vegetarian friends, since their menu is loaded with meatless dishes.
6. The Smoking Goat: Dinner
In the heart of North Park's walkable community, you might not expect to find unpretentious, casual French dining. But once you do, you're going to be so glad you gave it a try. The Smoking Goat is comfortable and warm, with exposed brick, a vibrant bar, and cool staff that welcome you like family--and feed you like royalty. From the perfectly cooked steaks to the duck confit, every dish is a decadent delight. Be sure to save room for dessert!
back to top