Spy Report: All the Best Photos of the Tesla Model 3 So Far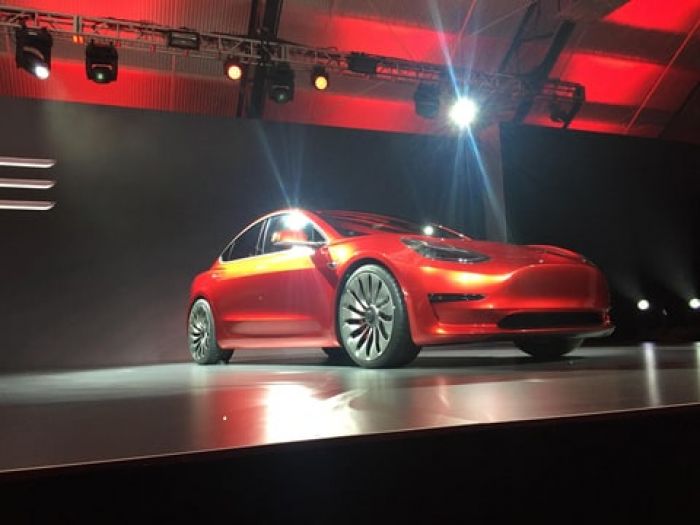 The Tesla Model 3 is coming. Eventually. Tesla CEO Elon Musk has all but confirmed that the smaller sedan/hatchback will be unveiled in July, but it's unclear whether that means the Model 3 will then be available for sale. The hand raisers who have provided Tesla with over half a billion dollars in refundable deposits may make all the difference in bringing the final Model 3 to market.
During the gestation process from concept to production, car companies like Tesla have to conduct real-world testing. Unlike some automakers that plaster their prototypes and test cars with psychedelic patterns designed to confuse the eye, Tesla makes no bones about running undisguised mules around — once the public has seen them first.
MORE: Meet the $35,000 Tesla Model 3
Surprisingly (or not), sightings of the Model 3 are few and far between on social media sites. In this age of sharing photos, however, it's often difficult to properly credit the spotter. In this case, we scoured Instagram, Twitter, and a slew of message boards and news sites to bring you the most comprehensive shot list to date.
In the last few days, Tesla released what appears to be the first official photo of the Model 3 in its quarterly earnings statement to investors — in a newsletter, not a brochure or a micro site. Look carefully through that document and note that cash flow, while still negative in the hundreds of millions of dollars, is up, due in part to Model 3 reservation holders.
Photo: Jeff Jablansky
We were at the reveal event for the Model 3 that occurred just over a year ago at SpaceX headquarters in Los Angeles. The design hasn't changed much since then.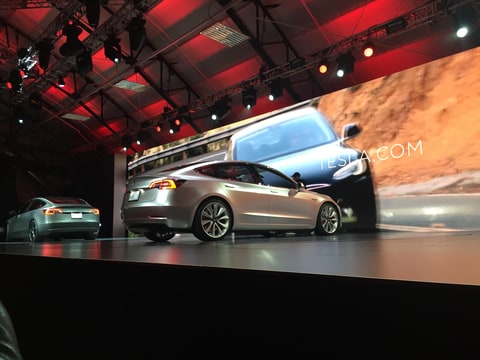 Photo: Jeff Jablansky
On stage, far away from other production cars, it was challenging to judge the Model 3's footprint.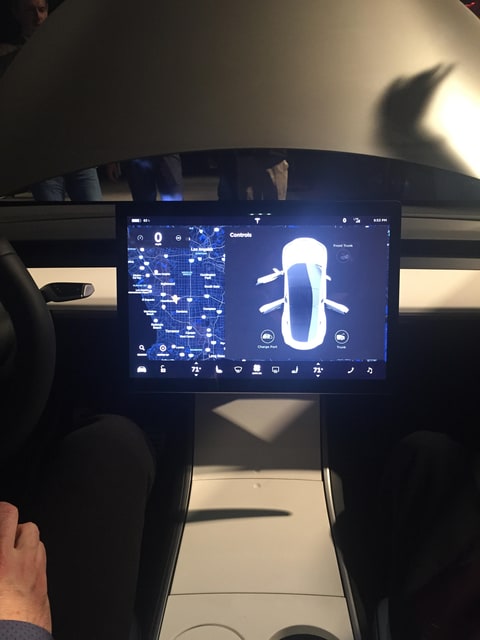 Photo: Jeff Jablansky
We gleaned some insight from spending a few minutes in the car and feeling the acceleration from a standstill, but more impressive was the stark, bare interior display. One central screen, and that was it.
⏳

A post shared by charlie (@_chawlay) on Mar 6, 2017 at 8:12pm PST
Instagram user @chawlay saw what looks like the red reveal car at the site of Tesla's Gigafactory 1 in Nevada.
And here's a white one that appeared first on Reddit, by user gamerfreak4life. This one appears to be riding higher than previous models sighted — an indication that the Model 3 might be available with an adaptive suspension.
Most recently, fan blog Teslarati posted photos of a blue Model 3 prototype that was running around Silicon Valley. What appears to be a production-ready Model 3 is almost identical to the car unveiled in 2016, at least in side profile. Subtle changes to the front fascia are perhaps a sign that the company listened to first reactions that it appeared too blunt. From the rear quarter, this Model 3 prototype looks like a scaled-down mixture of Models S and X. It's a strategy that's worked for luxury brands in the past.
MORE: Elon Musk's SolarCity Is Now Taking Orders for Solar Roof Panels
Bloggers at Jalopnik claimed to have photos of the Model 3 in the wild: this time, of a black one and a blue one. Next to a BMW 3-series, the Model 3's styling finally comes into proportion. The wheels are still enormous and the grille is flat and dulled. Note the ratio of glass to metal body work.
The most recent captured sighting occurred at a Supercharger in Ohio, where a keen observer noted a Model 3 prototype. This one was without badging, like the other prototypes spotted, but it quickly and silently slipped away when the driver realized he was being filmed. We may never see another Model 3 outside California ahead of the delayed launch.
back to top