United Airlines Plans to Charge Passengers For Overhead Bin Use
We know there's no such thing as a free lunch, but now you can't even sit at the proverbial lunch counter without coughing up some cash. United Airlines just announced that they will charging "Basic Economy" customers for overhead-bin use starting in 2017.
"Basic Economy" is a new fare tier that offers their lowest prices for passengers who will only be allowed one personal item that must fit under a seat and will not be assigned seats until the day of departure. United anticipates that this fare initiative, combined with better flight connections and revamped pricing algorithms, could add $4.8 billion to yearly operating income by 2020.
MORE: How to Fly Like a V.I.P. Without Elite Status
Why the change? The company argues that this is just what customers were clamoring for in the first place. In a statement the air carrier writes, "Customers have told us that they want more choice, and Basic Economy delivers just that." According to a report from Reuters, United's President Scott Kirby said that surveys indicated travelers and employees do not like scrambling to store carry-on bags in the limited overhead bins. The new fares are stated to be comparable to the fares United now charges for economy cabin. In other words, customers will soon be getting less for the same price. 
The move to a more frugal ticket flies in the face of the many arguments against budget airlines such as Frontier, Spirit, and Ryan Air. Customers haven't flocked to such places, because they've found the budget airfare isn't really that much cheaper — after you've been charged for bags, beverages, and a seat reservation.
ALSO: Are Cheap Airline Flights Less Safe?
Since the announcement early on Wednesday, the masses have taken to Twitter to express their disdain for the new fees and fare tier. In response to some customer's questions and comments about Basic Economy, United has put up a defensive front, as seen in this exchange with a customer identified as Mark Putnam: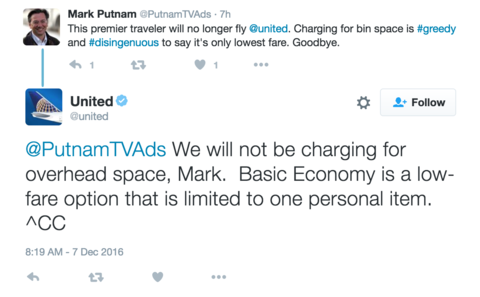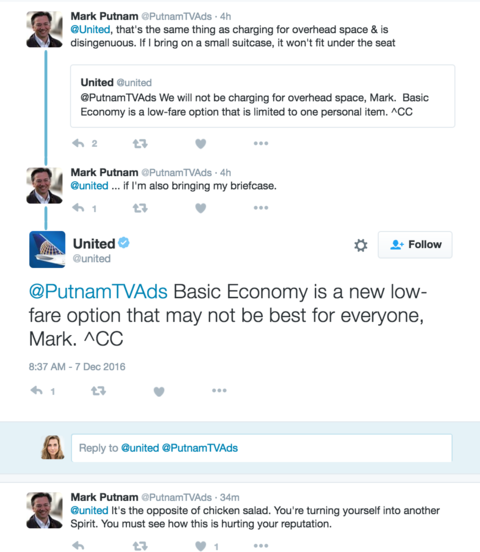 If you're a traveler looking for a carrier who does bare-bone, discount airfare right, those budget airlines — Frontier, Spirit, and Southwest — are starting to look good. If not, there's always an American, Delta, or Virgin overhead bin waiting for you free of charge (for now). 
back to top