3 Takes on Tomato Soup, from Classic to Spicy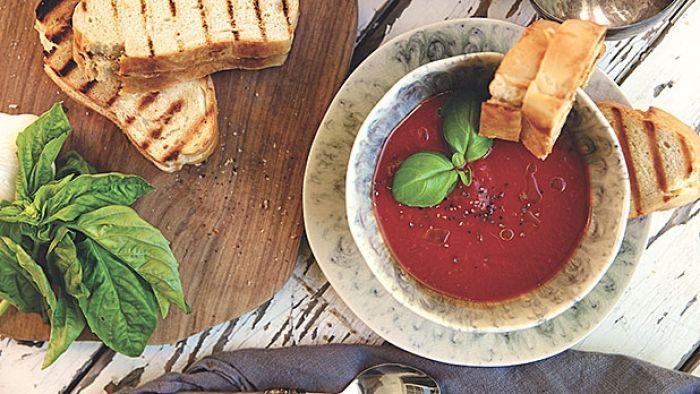 There's few more comforting lunches on a chilly day than a hot bowl of savory tomato soup paired with a buttery grilled cheese.
Despite being hearty and rich, it's actually simple to make, involves few ingredients, and surprisingly healthy. "It's warming, beautiful to look at, and pairs well with all of our other favorite foods like cheese, bacon, and bread. But what we may not realize is that we also love tomato soup due to its umami, or naturally occurring glutamate. It opens our palates to taste more sensitively and brings out the flavors of the foods paired with it," says John Anderson, Culinary Director of Eschelon Experiences in Raleigh, North Carolina.
RELATED: How to Build the Perfect Grilled Cheese 
This is why a good grilled cheese sandwich is great when paired with tomato soup. Also, if you have a hangover, try it as a partial remedy. "Tomatoes are almost all water, which hydrates, and tomato soups usually contain enough salt to help you retain that water. Tomatoes are low in calories, so some tomato soups can be a great base for a low-calorie diet," says Anderson.
Comforting Cream of Tomato Soup "This recipe goes straight back to our youngest days, when we'd dip grilled cheese sandwiches into hot bowls of the cream of tomato soup our mom used to make in the cold New Jersey winters. Mom's recipe was straight out of the can; but even so, that steaming, savory soup epitomized warmth, which we always looked forward to as we peeled off frozen scarves, hats, and gloves. As far as cream soups go, this is lighter than most, thanks to the acidity of the tomatoes, which balances the richness of the cream," via Chefs/Owners Bruce & Eric Bromberg of Blue Ribbon Restaurants (New York City, Las Vegas, and Los Angeles). (This recipe courtesy of Better Home Cooking: Bromberg Bros. Blue Ribbon Cookbook.) 
Ingredients:
2 tbsp unsalted butter
1 Spanish onion, thinly sliced
Kosher salt
1 (32-oz) can crushed tomatoes
¾ to 1 ¼ cups heavy cream
Directions:
In a large nonreactive stockpot over medium heat, melt the butter. Add the onion and a pinch of salt and toss well. Reduce the heat to medium low, cover, and cook, stirring occasionally, until the onion is meltingly tender, lowering the heat, about 15 minutes.
Add the tomatoes and 4 cups of water and raise the heat to bring the mixture to a simmer. Simmer, uncovered, for 20 minutes. Transfer to a blender and carefully puree until smooth, working in batches if necessary. The soup can be refrigerated, covered, for up to 3 days. Return the soup to the pan.
Stir in the cream and season with salt to taste. Gently heat the soup until steaming and serve.
Harira (Moroccan Tomato and Beef Soup)
Harira is a wholesome Moroccan tomato-based stew. "The soup is built off a base broth made from fresh tomatoes and tomato paste, which is then spiced with fragrant spices like cinnamon, saffron, and cumin to yield a truly unique taste. Add in slow-cooked pieces of beef, and you have a truly delicious and highly nutritious meal," says Cyrus Roepers of food blog, Arousing Appetites.
Ingredients: 
1 lb cubed beef (or other protein), cut into 1-inch pieces
1 large white onion, chopped
2 stalks celery, chopped
2 carrots, chopped
1 lb fresh tomatoes, chopped
½ cup dried lentils
½ cup long-grain basmati rice
3 cups homemade vegetable stock
1 can tomato paste
1 cup cooked chickpeas (from a can), or dried chickpeas soaked overnight
¼ cup fresh cilantro leaves, chopped
¼ cup fresh parsley, chopped
1½ tsp sea salt
1 tbsp ground turmeric
1 tbsp ground cinnamon
1 tbsp ground paprika
½ tbsp ground cumin
1 tsp saffron, crushed
2 tsp of ground black pepper
Tadouira
Ingredients:
½ cup chickpea flour
1 cup water
1 tbsp tomato paste (optional)
Garnish
1 lemon, cut into wedges (optional)
Directions: 
Heat large saucepan over high heat and add oil. Once hot, place meat into pan and cook for 1–2 minutes. As the meat starts to brown on each side, remove the meat and place into a bowl. Set aside.
Bring the saucepan down to medium-high heat and add the onions, celery, carrots, and garlic with a splash of vegetable stock. Stir around and begin to cook the vegetables together. After several minutes, add the tomatoes and their juice. Cook for another 2 minutes. As the tomatoes start to soften, add the spices and mix thoroughly among vegetables and tomatoes.
Once the spices are mixed in, re-add your meat and any additional juices that have accumulated in the bowl. Then add your lentils and rice and stir. After ~30 seconds of stirring, begin adding vegetable stock into the mixture 1 cup at a time. As you add the stock to the saucepan, stir it throughout and distribute the liquid well. Once the stock is fully added, add the tomato paste and chickpeas. Bring the saucepan to high heat and to a boil. As the soup starts to boil, bring to a simmer, and let cook for at least an hour.
While the harira is simmering, begin making the tadouira by gradually adding water to the chickpea flour in a bowl. The end result should be a runny yellowish slurry, which will go into the harira at the end.
Periodically check on the harira via the texture of the meat. The meat should be very soft but still retain its original form. Once you feel it's right to move on, add the fresh greens (cilantro and parsley) and simmer for another 5 minutes. Add the tadouira and stir thoroughly in the soup over the simmer. As it starts to thicken (after 1-2 minutes), take the harira off the heat and serve. If desired, add a splash of lemon juice and additional fresh greens as a garnish. Enjoy!
Chipotle Tomato Soup
If you love tomato soup but are looking for a fun twist on the classic, Haylie Duff, actress, cookbook author and host of Cooking Channel's Real Girl's Kitchen suggests her chipotle tomato soup. Duff says: "Tomato soup is the perfect cold-weather meal. I give mine a chipotle twist, adding a yummy smokey flavor. I love pairing this soup with a delicious grilled cheese. There's no better combination than tomato soup and grilled cheese!""
Ingredients 
7 quartered tomatoes
2 quartered yellow onions
Drizzle of olive oil
1 tbsp of sea salt
1 cup of veggie stock
1 can of crushed tomatoes
1/2 cup of red wine
4 heads of roasted garlic (see recipe below)
2 red bell peppers, quartered seeds removed
1 tsp of black pepper
1 cup of torn basil
1/4 cup of chipotle peppers in adobo sauce (can)
 Directions
Preheat oven to 350º. Drizzle tomatoes and onions with olive oil. Sprinkle with sea salt. Bake for 30 minutes or until soft and sunken.
Combine veggie stock, crushed tomatoes, and red wine in a pot. Bring to a slow boil. Add tomatoes, onions, garlic, red peppers, black pepper, basil, and chipotle. Simmer for an hour. Run the soup through a food mill or vitamin or emulsion blender.
Roasted garlic: Preheat oven to 350º. Slice the top off of each garlic pod
Drizzle with olive oil, a pinch of sea salt and a sprig of rosemary. Wrap each pod in aluminum and bake for 20 minutes.
Get the latest in gear, fitness, travel & more delivered directly to your inbox. Sign up now for the Men's Journal newsletter.
back to top