6 Beer Cocktails to Add to Your Repertoire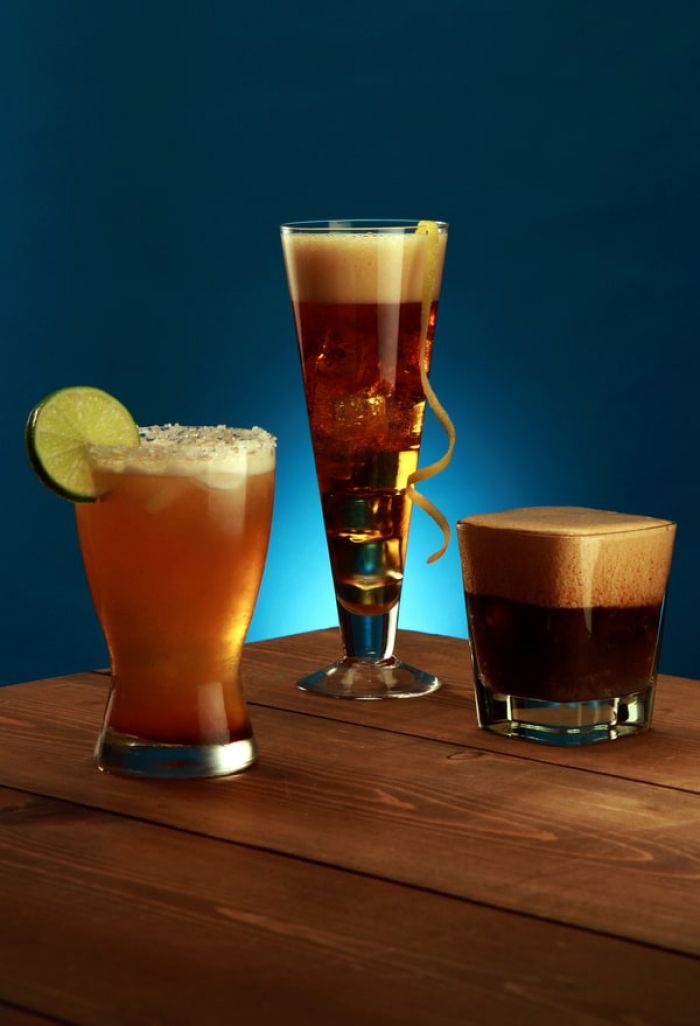 Credit: Chicago Tribune via Getty Images
Beer cocktails are one of those emerging trends that everyone has heard of, but no one really knows about. For some imbibers, it's a brand new concept; for others, it's a fad that's "over;" and for others still, it's ancient history (see: radlers; Berlinner weisse beers with woodruff or raspberry syrup; et. al.)
Whether it's mixologists not taking beer seriously, beer drinkers not being interested in cocktails, or simply a lack of exploration on both ends is open to discussion, but the bottom line is that beer is just another amalgam of ingredients that can help carry aromas, express flavors, and potentially enhance a beverage.
Be you a believer or not, beer cocktails can be every bit as complicated — or every bit as accessible — as traditional cocktails. For a handful of folks in charge of selling you drinks behind a bar, be they bartenders, brewers, or distillers (or all three, if you're Interboro Spirits & Ales' Jesse Ferguson), beer cocktails are worth a shot (pun very much intended).
The following is a selection of beer cocktails that beverage directors from Brooklyn to San Francisco are incorporating into their offerings. Whether the beer be used as a bittering agent or main ingredient, these concoctions are worth some exploration.
New Jack Screwdriver
An IPA cocktail featuring fruit-forward hop flavors and aromas with unaged apple brandy.
"We have been making a screwdriver using our New Jack unaged apple brandy or our Negative Space unaged white dog.* We mix with our freshest, juiciest IPA, like Mad Fad Fluid or Full Time IPA." —Jesse Ferguson, founder/brewer/distiller, Interboro Spirits & Ales, Brooklyn, NY
Ingredients:
1 oz of New Jack apple brandy
8 oz of New England-style IPA
A dash of Angostura bitters
A dash of simple syrup (to taste)
grapefruit zest
Instructions: Fill a highball glass with ice. Add Applejack, bitters, and simple syrup. Top with New England-style IPA (such as Interboro Spirits & Ales' Mad Fat Fluid IPA), and garnish with a grapefruit zest.
Notes: Look for a medium-bodied IPA that's about 6 to 7 percent alcohol by volume. The hop profile should be fruity and citrus-forward, with mild to moderate bitterness — enough to stand up to and amplify the pure, unaged apple brandy flavors, without intensifying the alcohol heat. The result should be a beer cocktail that softens the spirit and plays up the IPA's citrusy flavors. (Mad Fad Fluid IPA is 7 percent ABV, 33 IBU, and uses Mosaic, Equinox and Centennial hops.)
*"White dog" is a term used to describe the spirit before it is aged in barrels, where it gets its color and flavor.
IPA Manhattan
A Manhattan-style beer cocktail made with rye bourbon, sweet vermouth, and a high-gravity IPA.
"Our signature beer cocktail was created by my bartender, Tony Pontius and myself. We created it after I read a comment on a Reddit board [from someone who was] unable to find any recipes for anything like this online. Simple, smooth and delicious!" —Heather Rush, co-owner, Pine Box Rock Shop, Brooklyn, NY
Ingredients:
4 oz Bulliet Rye Bourbon
2 oz sweet vermouth
2 oz bitter, high-gravity IPA (recommendations: Green Flash West Coast IPA; Bell's Two Hearted IPA; Other Half IPA)
1 brandied cherry
Ice
Instructions: Fill your martini glass with ice and set aside to chill. You want your glass cold to preserve the carbonation of the beer. In a mixing glass, add four ounces of Bulliet Rye Bourbon, two ounces of sweet vermouth, and shake. Strain into your chilled martini glass and top with two ounces of your favorite bitter IPA. Garnish with a brandied cherry.
Notes: "The idea here is to replace the bitter from the Angostura Bitters [used] in a traditional Manhattan with the bitterness of a high-gravity IPA. You want a big, full-bodied, high-alcohol-by-volume IPA to stand up to the whiskey, or the beer will make the cocktail taste watered down.
I recommend Green Flash West Coast IPA, Bell's Two Hearted IPA, or Other Half IPA. If you're making it for someone you really want to impress, there's always Russian River IPA or Alchemist Heady Topper (if you can find it!). A word to the wise — our martini glasses are huge (10 ounces), so people might have to scale it down at home."
Tom Mix Wash
An herbal, spicy beer cocktail featuring rye, ginger beer, pilsner, and mint.
"Tom Mix was a silent film megastar, appearing in 291 movies in his career. He was a famous tough guy and drinker, and he died in a car accident in the southwest when his car ran off the road and overturned in a gully, or wash. The thing that actually killed him was the money box full of cash and coin he had stashed on the shelf in the car behind his head." —David Moo, owner and mixologist, Quarter Bar, Brooklyn, NY
Ingredients:
1 oz straight rye whiskey (Old Overholt)
1 oz good, spicy ginger beer (D&G, q, Barritt's)
8 oz Pilsner beer
1 sprig of mint
Instructions: In a double old-fashioned glass (10–12 oz tumbler), pour whiskey and ginger beer, top with pilsner, and garnish with mint sprig.
Notes: "The spiciness of the rye and the ginger beer marry up in a classic combination, adding depth to the clean pilsner. The light hops in a classic pilsner add a floral note to the whiskey and ginger, while also opening up and extending the flavor of the whole trio. The mint actually does add a vegetal top note that picks up the spiciness and the floral quality of the drink."
Garvey's Ghost
A beer and sherry cocktail featuring tropical flavors and Berliner-style weisse beer.
"The funky Jamaican rum and plantain hint at tropical flavors and instantly make me think of some of my favorite reggae records — hence, the name — [Garvey's Ghost] is a very political record by reggae stalwart, Burning Spear." —Clint Rogers, lead bartender, The Gage, Chicago, IL
Ingredients:
1 oz Lustau Amontillado Sherry
.5 oz Hamilton's Pot Still Jamaican Rum
.5 oz Plantain Syrup
.25 oz Lemon
2 oz Bell's Berliner Weisse
Mint
Instructions: Shake sherry, plantain syrup, lemon juice, and Berliner weisse in cocktail shaker. Strain into a highball glass with crushed ice. Garnish with mint.
Notes: "The Berliner Weisse is a classic German style that is quite tart; [it] balances with the funky rum and sharp nutty notes of the sherry."
Peppermint Warmer
Mint and milk stout meet coffee liqueur in this creamy beer cocktail.
"The fact that [the beer is] nitro instead of heavily carbonated lends a creaminess that makes this a smooth cocktail from start to finish." —Ivana Susic, beverage director, Jake Melnick's Corner Tavern, Chicago, IL
Ingredients:
4 candy canes broken into chunks, plus 1 for garnish
1 bottle St. George Coffee Liqueur
1 bottle Milk Stout (recommended: Left Hand Nitro Milk Stout)
Instructions: Put crushed candy canes into bottle of St. George coffee liqueur two days before the drink is served. Shake the bottle once or twice a day to ensure infusion. Strain before using. Measure out two ounces of the infused liqueur, and pour into a pint glass. Top with beer and enjoy!
Notes: "The St. George Coffee Liqueur, unlike other brands with similar flavor profiles, isn't overly sweet; you get a full-bodied coffee flavor with which the peppermint works well. The candy canes add a refreshing note and hint of sweetness to keep the drink balanced. The Left Hand Nitro Milk Stout is a perfect pairing because of the hints of vanilla and roasty finish."
Beer Cocktail #18
The latest in an ongoing series of beer cocktails at ThirstyBear Brewing Company; this one, featuring the brewery's Tolstoy's Inkwell Russian Imperial Stout.
"The beer cocktails in our program are numbered, so this cocktail is just called the 'beer cocktail number 18.' —Shina Kang, bar manager, ThirstyBear Brewing Company, San Francisco, CA
Ingredients:
ThirstyBear Tolstoy's Inkwell Russian Imperial Stout
Amaro Ciociaro
Xocolatl Mole Bitters
Espresso (cold)
Instructions: Shake ingredients with ice and strain into glass, creating a frothy head.
Notes: "For this cocktail, I wanted to keep the ingredients simple and really play up the main flavor components of our Tolstoy's Inkwell Russian Imperial Stout. I was also looking for a base liquor that wasn't as high in alcohol because the stout is a high-alcohol beer. The Amaro Ciociaro is an earthy, herbal, and bittersweet liqueur that, along with the Xocolatl (chocolate) Mole Bitters, really highlights the robust, malty, and bittersweet chocolate flavors of the stout. Cold espresso is added to emphasize the roasted barley notes in the beer. With all these ingredients together and the nitrogen conditioning of our stout, this cocktail is shaken with ice, and strained into the glass to create a nice frothy head like a properly poured beer should have!"
As represented by these beer-focused mixed beverages, the flavors and ingredients of a beer cocktail, like beers and cocktails themselves, are limitless. Try one on for size, and when constructing a beer cocktail of your own at home, ask not what beer goes well with what spirit, but what flavors, aromas, and styles of both suit one other, and suit you.
back to top