Beer and a Shot: You're Doing it Wrong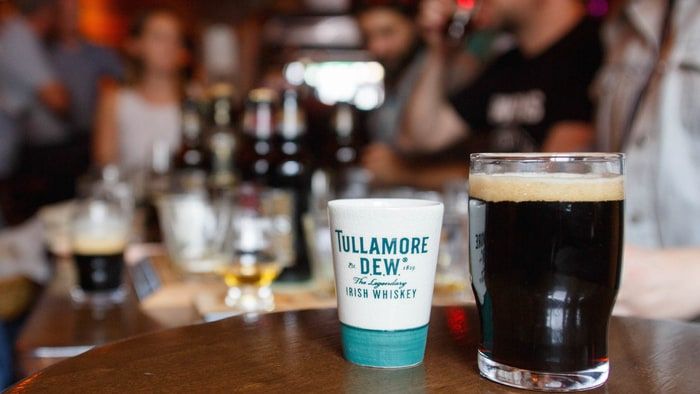 Irish whiskey is the most versatile spirit to pair with beer.
Credit: Ethan Fixell
There was a time when high-quality beers and whiskeys were enjoyed side by side in slow-sipping harmony. Likely first popularized by steam locomotive workers in the 19th century, the "boilermaker" pairing was eventually bastardized into the practice of chasing a shot of unpleasant liquor with a pint of watery lager as quickly as possible. Even worse, it later devolved further into the fratty ritual of dropping said shot into a beer, and downing both at once to maximize alcohol intake with supreme efficiency.
PHOTOS: The 100 Best Beers in the World
But now, amidst an explosion of craft beer and artisanal spirits, this drinking tradition is ready to make a classy comeback in the U.S. James Tune co-founded a bar called Boilermaker two years ago in New York City, before many bars offered the drink combos on their menus. "Today it's not uncommon for many cocktail bars and restaurants to incorporate some sort of upscale beer and shot pairing on the menu," Tune says. "Boilermakers are not just found in dive bars as was the case for so many years."
Tune's bar serves a combo called The Irish Monk: Jameson Irish whiskey paired with Weyerbacher Merry Monks, a Belgian-style tripel. The lighter, sweeter profile of the whiskey is perfect for the high-gravity, fruity, yeast-driven beer. While Merry Monks is a Belgium-influenced heavy-hitter that works with most spicy spirits, Irish whiskey is also perfect for pairing with the new wave of modern American beer, which is trending toward more nuanced flavors and lower alcohol content. 
Another Irish blend that demonstrates this power to pair: Tullamore D.E.W. Original. "It's slightly herbal, with the fruity character common to most Irish whiskeys," says Brian Kinsman, Tullamore's master blender. "Therefore, it's going to work better with a beer that's not too dominant." He recommends medium-strength brews with a bit of bitterness, like pilsners, pale ales, and session IPAs, to complement these notes.
If you're seeking bigger flavors, Irish single malts are likewise your best option. Single malt Scotch more often overwhelms beer with incredibly robust, earthy, and (sometimes) peaty, smoky flavors. And bourbon, thanks to the distinct charred oak character, overpowers beers without similarly bold roasted flavors, like stouts.
PHOTOS: The 50 Best Whiskeys in the World
If you're less familiar with single malts from the Emerald Isle, here are two to start with: Tullamore D.E.W. just released 14- and 18-year old single malts that are ideal for heady brews. Both are finished in four types of casks — bourbon, Oloroso sherry, Port wine and Madeira — giving the liquid a more complex flavor profile than any Tullamore blend. "You get nice vanilla notes from the bourbon cask, deeper dried fruit notes from the sherry, earthy spice from the Madeira, and a deep fruitiness from the Port," says Kinsman. With four more years of age, the 18-year-old is a bit deeper and more intense, compared to its slightly sweeter, fruitier, younger counterpart.
Irish single-malt spirits like these present unique opportunities for pairing with beer in that they are bolder, richer, and yet, more nuanced than lighter, blended Irish whiskey. Their complexity makes them a bit more difficult to pair, but more rewarding when matched properly. As Kinsman puts it, the single malts are more likely to dominate certain beers, but also more likely to offer a "Eureka" moment when a brilliant pairing is found.
Of course, Irish whiskey isn't the only answer. If you're looking for a more aggressive ounce without the smoke, look to a blended Scotch. They're smooth and more rounded than their single-malt brethren, but without peated barley.
Meanwhile spicy bourbons and smoky Scotches can excel against dark, roasted ales. Highland Park, an Island-region Scotch distiller, recently collaborated with New York City's Sixpoint Brewery. The duo created two beers specifically to pair with Highland Park's 12 Year and Dark Origins. Though the golden ale, Rune, was indeed bowled over by the 12 Year, the darker Skoll matched the dried fruit and smoke of the Dark Origins with its own roasted barley and coffee notes.
Likewise, Guinness brewery ambassador Chris McClellan recommends pairing his heavily roasted ale with Bulleit bourbon, instead of a fruitier Irish whiskey. "The chocolate flavors of the stout play wonderfully with the grainy sweetness of bourbon, and it's accentuated by the beer's bitter finish."
Yet as the pairing of beer and spirit returns, Tullamore D.E.W. is hoping to lead the charge. The brand has even taken the initiative to coin the catchphrase "D.E.W. & a Brew." "I don't see us as Jesus Christ coming to save the world," jokes Tullamore global ambassador John Quinn. "It's not about, 'You must have a whiskey to go with your beer.' But if you're interested, there's a whole load of reasons why it works so well."
back to top