Dang, That's Some Good Whitefish Salad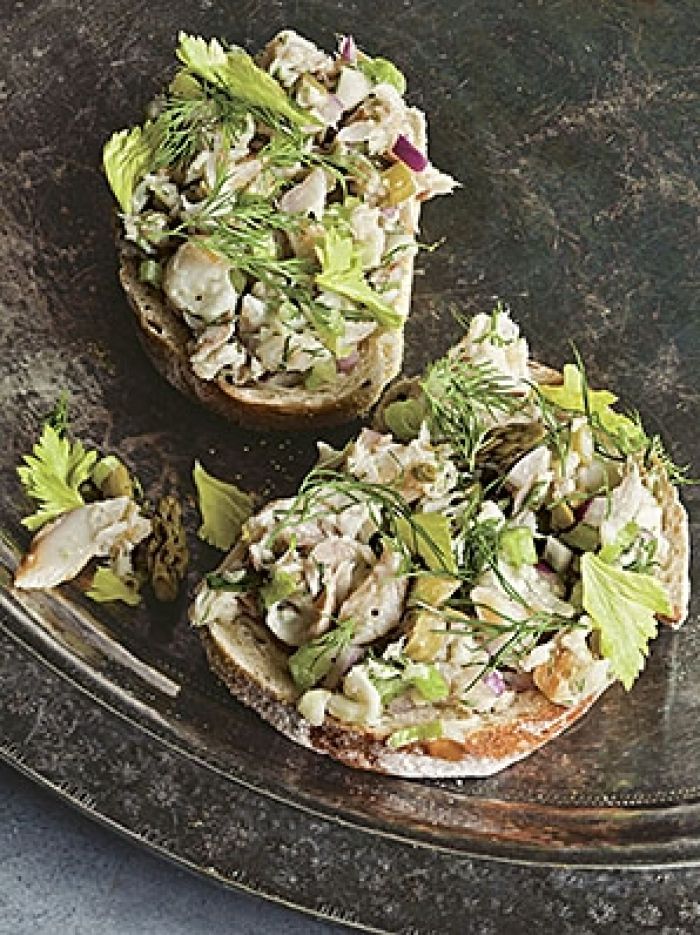 Smoked fish has been a staple of the American Jewish table since it arrived with Eastern European immigrants in the late 1800s. But whitefish salad, traditionally a way for appetizing stores to use up whitefish scraps, has only been elevated to iconic status over the past 50 years. (In accordance with Jewish kosher laws, appetizing stores, of which there are now only a handful, traditionally sold prepared fish and dairy dishes, and delicatessens sold meats.)
When bagels became delivery vehicles for spreads and salads in the 1960s, an innovation that Arthur Schwartz, former executive food editor of the New York Daily News, credits to restaurateur Shelly Fireman's The Hip Bagel, whitefish salad found its starring role. "It wasn't a huge product," Schwartz says, but today it's "so mainstream that you can get it at Costco — not just in the Jewish market." 
RELATED: What's the Difference Between Seltzer, Sparkling and Mineral Water?
Typically, whitefish salad is, as Mimi Sheraton puts it in 1,000 Foods to Eat Before You Die, "seductively creamy" — lots of mayonnaise or sour cream — and a little crunchy. Think tuna salad, but with a deeper flavor, smoky and oily. (Brooklyn's Acme Smoked Fish Company makes a wildly popular version that's sold by retailers throughout the United States.) Salads of smoked fish or herring (which is pickled) are especially popular as break-the-fast dishes during the Yom Kippur holiday, but you also tend to see them served during Hanukkah.
The whitefish salad at New York City's Mile End Delicatessen, however, is altogether different.
"I did not grow up with whitefish salad," says Mile End's Noah Bernamoff. "In Montreal, where I'm from, you don't really see whitefish salad. So my approach was not one of, 'Oh, I want to make the whitefish salad of my youth.' It was, 'I want to make the whitefish salad that is most rational to me.' "
For Bernamoff, the lashes of mayonnaise and sour cream that make up the traditional version only mask the flavor and texture of the smoked fish. "Our whitefish salad tastes like fish," he says — and that's as it should be. "It's not overpoweringly fishy, but if you don't like the flavor of fish, you probably shouldn't eat fish." His recipe, lemon juice and olive oil-based, "feels a little bit more like a salad in the sense that it's a combination of several distinct flavors that bring texture and acidity and brightness and tartness and all the elements into the salad."
But, he's quick to add, if the creaminess is part of the appeal, Mile End's whitefish salad goes perfectly well on a bagel slathered with cream cheese.
Mile End's Smoked Whitefish Salad
Ingredients
1 smoked whitefish (2 to 3 lbs), skin and bones removed
3 stalks of celery, finely chopped
1 small red onion, finely chopped
5 scallions, finely chopped
Juice of 3 to 4 lemons
¾ tbsp freshly ground black pepper
¼ cup extra-virgin olive oil
For serving:
Toasted bagels or hearty breads like rye or pumpernickel
Chopped dill sprigs
Flaky salt, like Maldon
Directions
Pick meat from the smoked whitefish, ensuring that all pin bones have been removed. Place picked meat in a mixing bowl.
Small dice the celery, red onion, and scallion and add to mixing bowl with the whitefish.
Add olive oil, lemon juice, and black pepper to the bowl and thoroughly mix everything together by hand.
To serve, garnish a heaping portion with fresh dill sprigs and a pinch of flake salt like Maldon to taste.
Get the latest in gear, fitness, travel & more delivered directly to your inbox. Sign up now for the Men's Journal newsletter.
back to top