Getting Creative with Nachos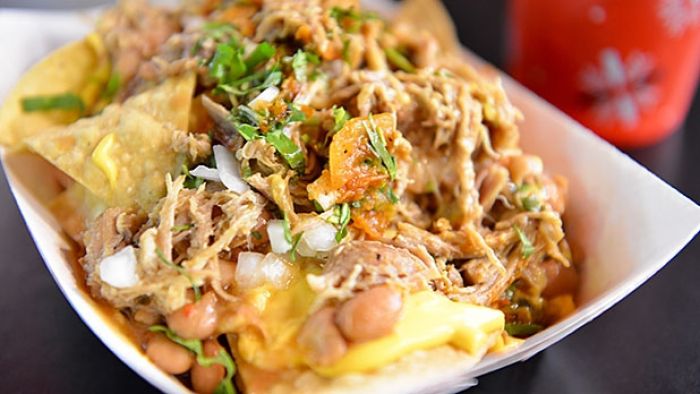 Credit: Wanwisa Hernandez / Getty Images
Don't be that party host who invites 20 friends over and serves them 30 pounds of soggy takeout wings and Tostitos covered in congealing queso. Nobody likes that person. Get creative with what you whip up to feed the hungry masses gathered around your couch — give them something to talk about.
RELATED: From Braised Pork to Kimchi: The World's Most Innovative Nacho Recipes
That goes no less for traditional appetizers, including nachos. "There are the guys who are always gonna order pizza, and that's just what they do," laments Chicago-based private chef and culinary instructor Aram Reed. "But people who are going to want to cook are going to want to go above and beyond." So in the event that Denver and Carolina stink up the joint in San Francisco this Sunday, here's a few innovative twists on your typical pile of corn chips and ground beef — courtesy of three expert chefs and caterers — that will leave your guests with a savory taste in their mouths.
Crispy Pork Belly Molè Nachos
"Molè was umami before umami was a thing in America," insists Tom Ciccarelli, sous chef at the soon-to-open Piknik barbecue restaurant in Tarrytown, NY. He also holds great affection for his nachos' key protein: pork belly, touting its versatility and "crunchy, candy-like" flavor and consistency. Ciccarrelli's recipe is smoky, sweet, salty, crunchy, looks unlike anything when plated, and is worth the bit of overnight prep required. And for those concerned that pork belly and mole are outside their comfort zone, the chef reassures them the combo "is not overpowering or too spicy," and reminds that ultimately, "When you start inviting your friends over, you step up your game."
Chip Ingredients
1 bag of crispy red tortilla chips, which are easily interchangeable with regular tortilla chips (red just looks cooler).
Pork Belly Ingredients
4 lbs uncured raw pork belly, no skin 
2 quarts Malta 
1 quart black coffee 
Rub Ingredients
1 cup dark chili powder 
1 cup brown sugar 
1 cup paprika 
1/2 cup salt 
Pickled-Onions Ingredients
1 qt red-wine vinegar 
1 bunch of fresh thyme 
2 medium red onions (sliced thin)
3 crushed garlic cloves 
3 tbsp sugar 
2 tbsp salt 
Molè Ingredients
1 bag of frozen corn, thawed, roasted in oven under broiler 
1 bunch of cilantro, cleaned and chopped 
3 cups shredded manchego cheese 
2 cups broken-up cotija cheese 
2 8.25 oz bottles molè sauce (Doña María, available in the Spanish aisle of most grocery stores, works best) 
Directions
1. The day before cooking, mix spices for rub, rub pork belly in spices and let marinate for 24 hours.
2. Slice red onions thin and mix with vinegar and spices. Bring to a boil, then add garlic and thyme and let cool and refrigerate for 24 hours. 
3. On day of cooking, cover pork belly with Malta and coffee in a shallow roasting pan, then wrap with plastic wrap and tinfoil and braise in a 300-degree oven for 3 hours. Then uncover and braise for another hour.  
4. Let the pork belly cool to room temperate in its own juices, then remove pork belly from juice and refrigerate pork belly. 
5. Add your store-bought molè sauce to the drippings and bring to a boil, then add 2 cups of sour cream, whisk together, and set aside for later use. 
6. Slice cold pork belly into thin slices and deep-fry until crispy. 
7. Take your crispy red tortilla chips, toss with cilantro, corn and molè sauce, then layer chips with cheese, red onions, and pork-belly pieces. Put in oven for 15 minutes until cheese melts, then garnish with leftover cilantro and cotija cheese.  
RELATED: America's Best Tacos (and How to Make Them)
Shrimp Ceviche Nachos
For those who can't quite reconcile the notions of seafood and nachos, Chicago-based private chef and culinary instructor Aram Reed recommends skeptics bear in mind that, "Ceviche is most commonly used with taco chips as the vessel." So, in effect, this is just taking that pairing one step further. And contrasted against the usual Super Bowl fare, it's a fresher, leaner option that's easy to prepare and doesn't skimp on taste, especially when accented by charred green salsa for a hint of smoke. Not to mention you'd likely be without any worthy competition. "We've all had pulled pork or chorizo nachos before," Reed says. "But by being the first one to bring in a new dish, you're winning the day."
Ceviche Nachos Ingredients
1 bag of tortilla chips
2 lbs peeled, deveined, and chopped shrimp
5 roma tomatoes, small dice
1 red onion, small dice
1 avocado, pit removed, small dice
1/2 cup cilantro, minced 
3/4 cup lime juice
pinch of pepper and kosher salt
Ceviche Nachos Directions
1. Place the shrimp and lime juice into a large bowl and stir to coat. Let stand for about 5 minutes, or until shrimp are opaque. (The lime juice will cook them.) Mix in the tomatoes, onion, and cilantro until coated with lime juice, then over and refrigerate for 1 hour.
2. Separately, on your platter, lay down a layer of tortilla chips. Top with your roasted salsa (see recipe and directions below). Sprinkle cotija cheese. Place platter in oven for 5–10 minutes or until cheese is melted. Top with shrimp ceviche, add a pinch of salt and pepper to taste (optional), and serve. 
Roasted Poblano Salsa Ingredients
2 poblano peppers
1 green bell pepper
2 jalapeño peppers 
1/2 lb tomatoes, cored 
1/2 small red onion
1 lime, juiced, about 2 tbsp
pinch of chunky salt
cilantro leaves, to garnish
Roasted Poblano Salsa Directions
1. Roast the peppers over a gas burner until the skins are roughly blackened and charred. Cover them with plastic wrap and then set them aside to cool.
2. Core the tomatoes and chop them roughly. Roughly chop the red onion. Lop off the stems of the peppers, and put everything into a blender or food processor with the lime juice and a sprinkle of salt. Blend until combined. Add a few tbsp of lime if you wish to adjust the thickness. Taste and add more salt if necessary. 
Vegan-ish Sweet-Potato Nachos
"People are keeping in mind real ingredients and not just a bunch of pre-packaged stuff," encourages Hilary Mace, chef/owner of Lancaster, PA–based catering company The Scarlet Runner, of general cooking trends. That's why she suggests a hearty variation eschewing meat altogether (and, if one opts for a non-dairy cheese substitute, can be entirely vegan). Though Mace insists that with this sweet-potato-inspired dish, carnivores "won't feel gipped, because you've got all these different flavors and toppings, but it all works together." In other words: Just because the teams are tossing grappling over a ball bound in pigskin doesn't mean you need nachos smothered in animal hide.
Nachos Ingredients
1 bag blue corn chips
3 cups shredded pepper jack cheese or vegan pepper jack
1 12-oz can black beans, drained and rinsed
1 ½ tbsp olive oil
2 cloves garlic, minced
1 medium sweet potato, small diced
½ tsp chipotle powder
1 ½ tsp kosher salt
1 tsp ground cumin
1 tsp ground coriander
1/12 tsp smoked paprika
1 tbsp lime juice
1 medium tomato, diced
1 avocado, diced
1 cup salsa verde (recipe below)
¼ cup pickled jalapenos
Directions
1. preheat oven to 350º. Line a baking sheet with aluminum foil for easier cleanup.
2. Peel and small-dice sweet potato. Toss with 1 tsp of olive oil, the chipotle powder, and 1 tsp of kosher salt. Spread on a baking sheet and bake for 15 minutes or until potatoes are soft but not mushy.
3. In a medium saucepan on medium heat, add 1 tbsp of olive oil and minced garlic. Sauté for a minute, then add rinsed black beans and cumin, coriander, and smoked paprika. Add ½ tsp kosher salt and stir. Cook on medium heat for 3–4 minutes, then add tbsp of lime juice. Add the cooked sweet potato. Stir and set aside.
4. Set oven to low broil. Set oven rack about six inches from the heat source.
5. Spread half of the blue corn chips on to the pan with aluminum foil. Top with 1 ½ cups of shredded cheese or shredded vegan cheese. Sprinkle a third of the black bean and sweet-potato mix on top of the cheese. Place in oven for about 3 minutes to melt cheese.
6. Remove and top with remainder of chips, cheese, and black bean/sweet-potato mix. Place under broiler again for 3–5 minutes. Be careful not to burn!
7. Remove from oven and top with salsa verde, avocado, diced tomatoes, and pickled jalapenos. Enjoy while hot!
Salsa Verde Ingredients
1 lb tomatillos, rinsed and cut in quarters
1 small onion, diced
4 cloves garlic, minced
1 tsp cumin seed (can substitute ground cumin)
1 poblano pepper, diced
1 tsp kosher salt
½ tsp black pepper
1 tbsp olive oil
1 large bunch cilantro, rinsed and rough-chopped
Salsa Verde Directions
1. preheat oven to 400º.
2. In a medium bowl, combine tomatillos, onion, garlic, poblano, cumin seed, olive oil, salt, and pepper. Stir to combine, then spread evenly on a baking sheet.
3. Bake in oven at 400º for 25 minutes or until everything is soft. Let cool, then pour mix into a blender or food processor. Blend until combined, then add bunch of cilantro and blend again until smooth. Place in refrigerator to cool.
Get the latest in gear, fitness, travel & more delivered directly to your inbox. Sign up now for the Men's Journal newsletter.
back to top