Group of Female Brewers Create an Anti-Trump Beer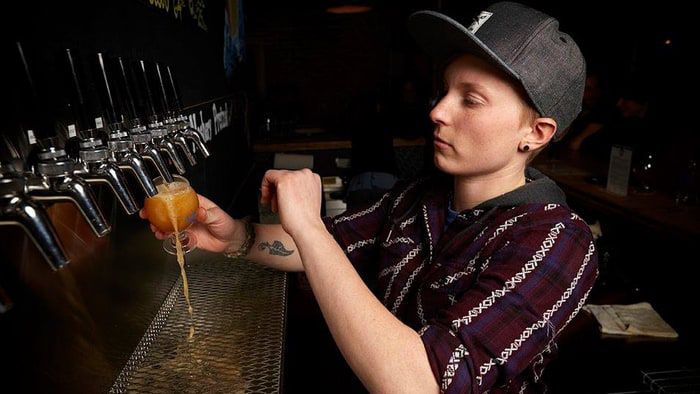 Head brewer Kelissa Heiber pours a beer at Goldspot Brewing.
Credit: Dustin Hall / The Brewtography Project
Sometimes brewers are fighting more than macro brands when they brew their beer. In one particular case, beer is making a political statement. In Denver a handful of women brewers joined forces to create a feminist brew in preparation for the impending inauguration of one Donald J. Trump.
ALSO: The 101 Best Beers in America
The beer is called "Makin' Noise: A Pussy Riot Beer," named after Russian punk rock activists Pussy Riot, and it is being brewed by six female brewers based in Denver — Kelissa Hieber of Goldspot Brewing, Bess Dougherty of Wynkoop Brewing, Katie Cochrane of Great Divide Brewing, Betsy Lay of Lady Justice Brewing, Alyssa Hoberer of Dry Dock Brewing, and Jess Anderson of 3 Freaks Brewing, according to The Drinks Business — all of whom believe it is their duty as women and as community members to stand up against Trump's statements against women, immigrants, the LGBTQ community, followers of certain religions, and other marginalized communities.
MORE: 6 Beer Cocktails to Add to Your Repertoire
Although the beer is not explicitly "anti-Trump," Hieber and Dougherty, who are the leaders of the brewing project, posted the following mission statement in a private Facebook group created for brewer participants:
"We felt it necessary to take action and decided to use our art to make our voices heard. We are coming out in support of those most at risk in our community and doing what we can to stand together as a united voice against hate and intolerance. This beer works to combat the hate and oppression while also lending support and solidarity to the fight for equality. We believe in this beautiful community, and we feel it is necessary to work together to protect it.We believe in an America that celebrates its diversity, an America that protects and supports anyone regardless of sexual orientation, gender, identity, race, religious views or immigration status. We condemn the hate that has always existed against marginalized groups, and we will not stand for the new strong wave hitting our country."
As for the beer, it's pink and packs a punch: The first batch of Makin' Noise, brewed at Goldspot Brewing in Denver, will be an imperial saison aged on 90 pounds of strawberry puree, weighing in between 8 and 9 percent ABV. "It will look like a delicate beer, but it will knock you on your ass," Dougherty told Westword earlier this week.
With so much positive interest in the project from other female brewers in the area, the group has decided to brew multiple batches of Makin' Noise, with four more brew days scheduled to take place throughout the week at Lady Justice Brewing, 3 Freaks Brewing, Black Sky Brewing, and Brewability Lab.
Come inauguration day on January 20, all six breweries will tap the beer in celebration of a community that promotes the ideals of diversity, tolerance, and equality. (In the case of Lady Justice, which doesn't have its own taproom, the beer will be available at another participating brewery, according to Westword.)
The proceeds will go to local Colorado charities including Planned Parenthood, the ACLU, One Colorado (an LGBTQ advocacy group), and Conservation Colorado.
Though the beer-centric effort of these six women is noteworthy, they are not alone in providing beer drinkers with a chance to drink in protest of the president-elect. A handful of American breweries expressed their distaste for Trump even before he was elected.
In time for the primaries last March, Philadelphia-based Dock Street Brewing launched the "Friends Don't Let Friends Vote Drumpf" beer series, starting with the launch of the Short-Fingered Stout, "a bitter and delusional stout with an airy, light-colored head atop a so-so body." Also in March, Chicago-based and Latin American-themed 5 Rabbit Cerveceria announced the launch of Chinga tu Pelo (translating to "Fuck Your Hair," a joke on Trump's fiery locks), a beer that began as the Trump Golden Ale, served as a house beer at Trump Towers; and in June, Chicago's Spiteful Brewing released Dumb Donald, a double IPA with key lime.
Whatever you end up drinking on inauguration day, make sure it supports a community in which you believe.
back to top