How to Make New York-Style Pizza at Home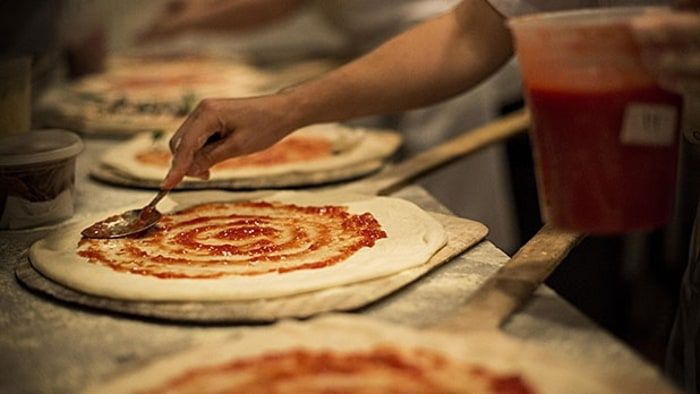 Making pizzas at Franny's in Brooklyn, New York.
Credit: Melina Mara / The Washington Post / Getty Images
New York ruins you on pizza. Spend enough time there, and you'll come to expect to find a slice shop on every corner. Of course, not every city can deliver.
Pizza alone isn't what makes "The Big Apple" sound like the misnomer it is: It's those classic slice shops, and the pizza makers and eaters they harbor, that make New York City a pizza town. No one knows that better than the creators of The New York Pizza Project, once a blog and now a coffee-table book, who have visited over 120 slice shops to document both the iconic and under-the-radar pizzerias in all five boroughs.
Ian Manheimer, co-founder of The New York Pizza Project, has met plenty of devout New Yorkers paying obeisance to their hometown pizzerias. "We talk to people who moved to the suburbs and drive in every weekend to hit their old neighborhood spot," said Manheimer. "We talk to people deployed overseas who... grab their favorite slice before going home." But it's not just the natives who are willing to make the pilgrimage. Manheimer once met a guy in line at Brooklyn's famous Di Fara Pizza who had driven all night from Miami to eat there. "He was like, 'I guess I'll see the Statue of Liberty, too.' "
RELATED: How to Make Frank Pepe's Famous White Clam Pizza
Of course, replicating a New York City pizzeria in your kitchen is just about impossible, but making New York style pizza at home is simple — and you don't need special water or a $20,000 baggie of air from Williamsburg to pull it off. You don't even have to make your own dough, according to Frank Pinello, owner of Brooklyn's Best Pizza, who provided the following recipe and tips. His process is wonderfully, surprisingly simple: perfect for people living a busy New York lifestyle anywhere in the country.
First, Pinello recommends picking up dough from a local pizzeria, in part because it's difficult to make and a pain in the ass to clean up. A dough recipe is below if you're curious.
Stretching the dough can be a challenge (and sometimes a contest). For your first few attempts, focus on getting a relatively circular pie, with the edges slightly thicker to form your crust.
For your sauce, get a can of peeled tomatoes and crush them by hand. Spread a couple tablespoons of sauce on the pie, stopping a half-inch or so from the edge (your crust). Top with a half teaspoon of dried oregano flakes.  
The cheese is simple: shred a block of medium-moisture mozzarella (Polly-O is fine, but avoid anything that's sitting in water), but if you want to get fancy, sprinkle on some freshly grated parmesan. The cheese should be applied in an even layer, until the sauce is still slightly visible but not completely covered.
Techniques to cook pizza at home vary, but if you can, invest in a pizza stone and a pizza peel. Cook your pizza at 500º, and start checking your pie around the 8-minute mark. When the crust turns golden brown, you're good to go.
So how do you know if you've succeeded? "New York is famous for its crust," said Manheimer, remarking that it should be sturdy yet still chewy on the inside. "The sauce should be tangy and ever so slightly sweet. The cheese should be generous."
Once you perfect the alchemy of sauce to cheese to crust ratio that makes a New York style slice, there's one more thing to keep in mind. "The slice should be big," says Manheimer. "New York slices are sufficient." And if you feel like you need a little more authenticity, place that giant slice on a scalloped paper plate and change your name to Ray before you serve it.
New York–Style Pizza at Home
Ingredients 
Sauce:
10 oz can of peeled tomatoes (preferably Red Gold or Cento), crushed by hand
Dried oregano flakes
Cheese:
Block of medium dry mozzarella, shredded
Freshly grated parmesan
Directions:
Place a pizza stone on your oven rack and preheat oven to 500º.
Stretch your dough on a pizza peel lightly dusted with flour, leaving a perimeter that's ½ inch thicker to form your crust.
Use the back of a spoon to spread two tablespoons of sauce on your dough, stopping at the crust.
Sprinkle a ½ teaspoon of dried oregano on top of the sauce.
Top with the grated mozzarella, until the sauce is barely visible.
Optional: finish it off with a dusting of freshly grated parmesan.
Slide your pizza from the peel onto the pizza stone.
Cook until the crust turns golden brown, approximately 8 minutes. 
Dough:
Makes enough for about three 10" pies.
Ingredients 
1.5L water
20g yeast
1 tbsp honey
60g extra virgin olive oil
2,500g all-purpose flour
800g flour
95g kosher salt
Directions 
Combine all your wet ingredients in your mixer. Then combine all your dry ingredients and slowly add those to the wet ingredients with the mixer on its lowest setting. As the ingredients blend, you can increase the speed to medium.
When the dough begins to form a ball and is no longer sticking to the sides, remove the mixing bowl from the mixer, cover it with plastic and put in the fridge overnight.
Take it out an hour before you want to cook your pie.
back to top