It's Time to Give Flank Steak Another Chance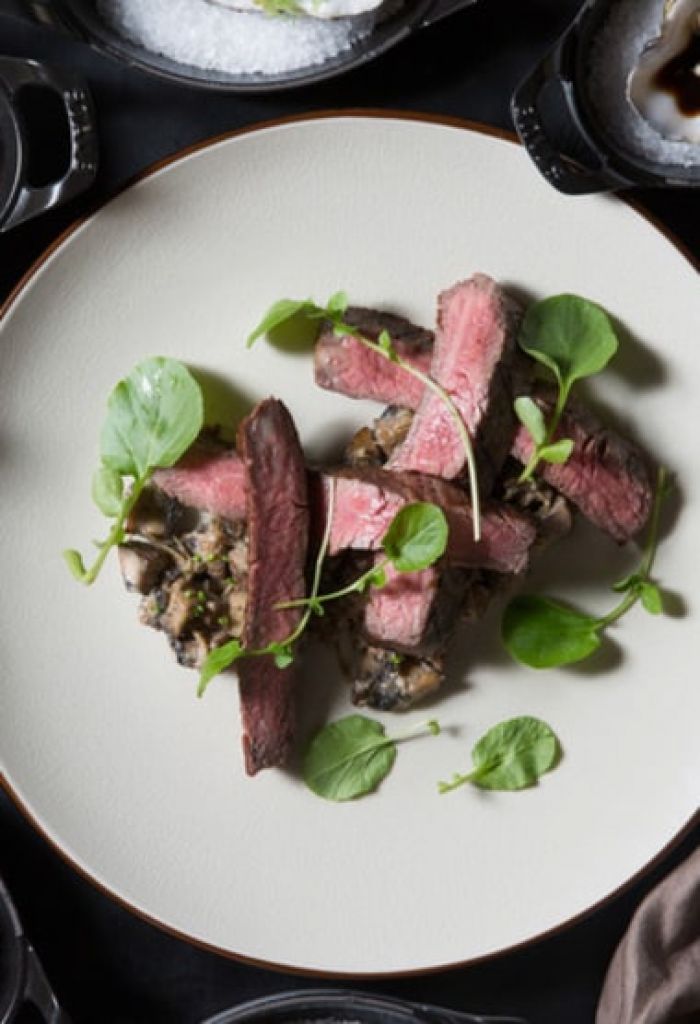 In a world of filet mignon, ribeye, and New York Strip, we often forget about the modest flank steak. No more! It's time to reintroduce this mighty slab of meat. It's no porterhourse pour deux, but it doesn't pretend to be. It's versatile — you can grill, pan-fry, or oven-cook it — affordable, and soaks up a marinade beautifully (perhaps the most trustworthy of summer cooking techniques). Flank, which comes from a cow's bottom abdominals, may not be filet, but chefs swear by two simple things to elevate it and make it moist, tender, and flavorful: 1) Cut it thinly; 2) Slice against the grain.
RELATED: The Ribeye Guide, How to Make the Perfect Steak
Another cardinal rule? Don't fuss too much. And considering this recipe from Chef Brian Voelzing, who helms The Hide — an American 'meatery' tucked underground in the Dubai resort Jumeirah Al Qasr — has your prep work complete in just 20 minutes, this might just be our favorite new homage to our childhood dinner table.
RELATED: Why You Should Put Steak on Pizza, and Grill It
The Hide's Chef Brian Voelzing's Flank Steak
Serves 2
Ingredients
1 lb flank steak

2 cups Portobello mushrooms

2 tbsp butter

1 medium onion caramelized

2 tbsp chopped garlic

1/3 cup beef stock

3 tbsp cream

2 tsp chopped thyme

1 tsp salt

1 tsp pepper

1 tsp chopped chive

salt and pepper
Directions
Clean the Portobello mushrooms by gently pulling off the stem, scraping out the gills with a spoon, and cut into halves.

In a medium-sized pan over medium heat melt the butter and cook down the mushrooms until they are tender and have colored. 

Add the garlic and thyme and cook for an additional minute. 

Add half of the salt to the mix before adding the beef stock and reducing with the mushrooms.

Add the cream and reduce until the mixture is held together. 

Finish the mushrooms with remaining salt, pepper, and chives. Set aside the mushroom mixture.

Season the flank steak with salt and pepper.

Cook the flank to desired level of doneness in the same pan and let rest for five minutes before cutting.

Serve the flank on top of the mushrooms.
back to top