Macallan's Last "Masters of Photography" Whisky is a Peated Masterpiece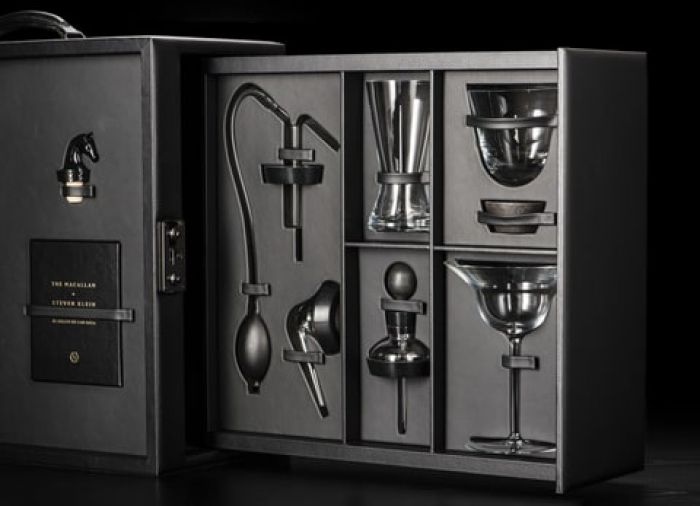 We'll admit we've seen our fair share of special release whiskies, featuring average liquids in new packaging at exorbitant prices, but Macallan's final entry in a limited series called "Masters of Photography" deserves attention whether you're a friend of the arts or not. 
The Masters of Photography Series started in 2008, and over the course of its six releases has featured Annie Leibovitz, Rankin, and Mario Testino. Each release has focused on one of Macallan's identifying concepts or qualities. This sixth and final release sees Steven Klein focus on "an ingredient fundamental in the making of The Macallan: time."
MORE: The 50 Best Whiskeys in the World
Klein is a photographer (who trained as a painter at the Rhode Island School of Design) and has been exhibited in galleries and museums around the world. For the Macallan partnership, he created 10 still images as well as this interactive video.
"My intention was to examine a world standing still through a moving camera," Klein said in a statement. "Typically with consumption of alcohol, there is always an abundance of movement. I thought what if it had all stopped for a moment and I could take a closer look at it. The idea is the perception of time. I used one of my favorite designers, Thom Browne, for the characters because I believe his clothes are bridged between the past and future in a great way."
But about that whisky.
Every year hundreds of special-edition, limited release whisky bottles hit shelves. Some are presented in beautiful artwork or keepsake boxes, but the whisky inside is not always that different from what's one shelf over.
Not so this time. Macallan's master whisky maker, Bob Dalgarno, also chose to reinterpret his art for this partnership. The whisky in this bottle is peated — a rarity for Macallan — and is the first release ever to be aged in rioja wine casks.
The resulting whisky, according to Macallan, is smoky with "flavors of sweet berries and spices." And the whisky itself has an unusual color: it's berry-like, between pink and red.
Only 100 bottles of this iteration of the Master of Photography Series will be released in the U.S., and just 1,000 worldwide. Each will ship with one of 10 signed prints and a set of custom barware tools. They'll retail for $2,995 for the limited-edition package.
back to top