Sweet and Spicy Chili, Carolina Style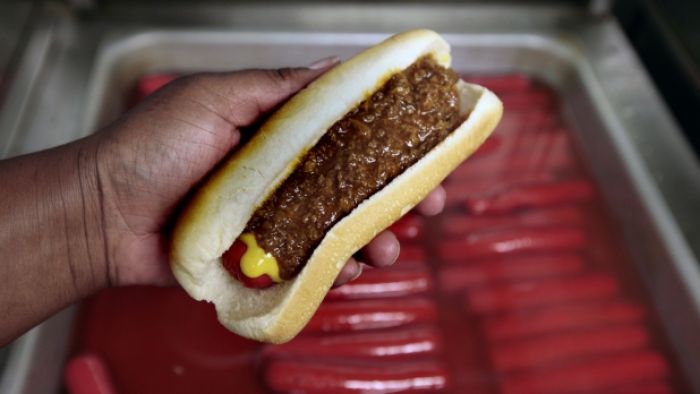 Credit: MCT / Getty Images
Chili has often been claimed as a dish of the West: It conjures up visions of Wyoming cowfolk coaxing the flavor out of meat and spices out on the range, and of die-hard Texans at chili competitions. It's more, you might think, the purview of the Denver Bronco fanbase than the Carolina Panthers. But you'd be wrong: Chili culture not only thrives east of the Mississippi, it's become a staple in the Carolinas. And there, the debate isn't over leaving out beans or adding tomatoes, it's whether to eat it piled onto a hot dog or a hamburger.
The Carolina style hot dog, piled high with beef chili, coleslaw, onions, and mustard, became a feature of regional cuisines in the '50s and '60s, served up by hot dog stands in the eastern part of the state. Though the history behind the spread of the style isn't totally clear, in the last fifty years it's taken hold as the Carolinian hot dog orthodoxy.
"Many eaters want them heated on a flat top griddle instead of steamed or grilled, and a couple of famous North Carolina hot dog joints actually deep-fry the hot dogs in oil," explained Sheri Castle, a North Carolina–based food writer and recipe tester. "Ketchup is frowned upon, if not fully forbidden. The chili is made of finely ground meat with the consistency of thick oatmeal. No beans, of course. No one eats hot-dog chili from a bowl, and no chili that goes in a bowl belongs on a hot dog. They are different things."
RELATED: 10 Great Beers Unique to North Carolina
Debby Maugans, food writer and author of Farmer & Chef Asheville, agrees. "The chili of red hot dogs and hamburgers is not the stuff that would win a cookout. It's more a meaty sauce, often a little sweeter than the chunky chili that grown men compete over. The meat is stewed to soft crumbles in a pot with water, seasonings, and something red — usually ketchup," she said. "I'd never eat it in a bowl in front of anyone."
There are rules, similarly, for the slaw that tops the chili: It's made of green cabbage, mayonnaise, and vinegar, with a simple salt and pepper seasoning. "Although we call them Carolina dogs, the practice of topping hot dogs with slaw and chili extends through eastern Tennessee and up to West Virginia," Castle noted. 
Another feature of Carolina chili dogs? They're often a cartoonish bright red rather than the more natural pinkish-colored sausage you find in other places. This also developed in the '60s: Originally, all hot dogs sold in the United States were dyed a similar color, but after concerns arose about the food dye usually used in the wieners, most national brands phased out the coloring. But regional hot dog companies in the Carolinas, as well as other places in the South, replaced the chemical with other, less worrisome dyes to keep the scarlet color. Carolina Packers in Smithfield, North Carolina, is the gold standard for many at-home hot dog chefs in the state. 
But, of course, if you can swing it, making your own hot dogs makes those Carolina chili dogs even better. Just ask Casy McKissick, the owner of Foothills Deli & Butchery in Asheville, North Carolina, who specializes in fresh takes on regional classics. He calls the hot dog chili "Poolhall Chili" in his shop. "We developed it to taste exactly like the chili dogs we used to get as kids from the little concrete block concession stand at youth baseball games," he said. "Carolina natives between the ages of maybe 30 to 60 almost always tell me that the chili is perfect." Just don't eat it in a bowl.
Casey McKissick's Poolhall Chili
Ingredients:
1 lb ground beef, 80% lean
1 medium onion, finely diced
½ cup yellow mustard
5 tbsp apple cider vinegar
1 cup ketchup
4 tbsp chili powder
salt & pepper, to taste
 Directions 
Over medium-high heat, brown the ground beef in a skillet (cast iron if you have it), breaking it apart as it cooks.
Turn down the heat to medium. Add the diced onion and let it sweat with the beef for about 4 minutes.
Add the ketchup and cook at a simmer another 3 minutes until slightly reduced.
Stir in yellow mustard and let simmer another 3 minutes.
Add apple cider, chili powder, and salt and pepper to taste. Stir to combine and adjust seasoning as necessary
Serve over hot dogs, topped with diced onion, yellow mustard, and coleslaw.
Get the latest in gear, fitness, travel & more delivered directly to your inbox. Sign up now for the Men's Journal newsletter.
back to top