The 3 Best Margaritas You Should Make From Santa Fe's Margarita Trail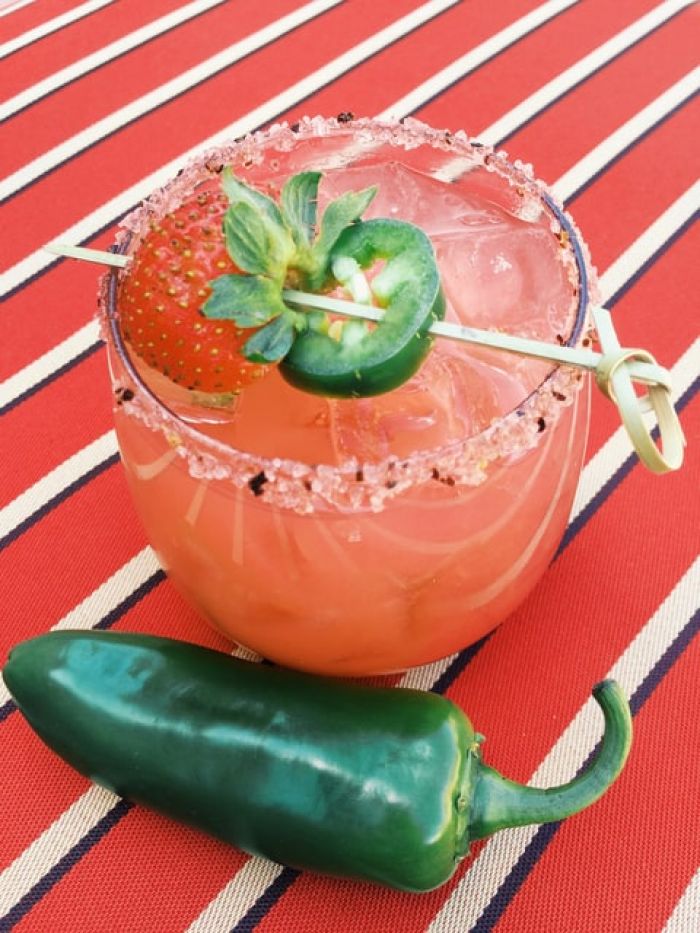 Kentucky gets the Bourbon Trail, and the rum trails belong to the Caribbean. Now, Santa Fe is staking its claim on tequila, with a new margarita trail.
MORE: 30-Second Cocktails: A Better Margarita
This arty New Mexico city isn't going so far to say they invented margaritas because that history is murky. But, it was the first to import tequila, with the Spaniards bringing the "Mexican Brandy" up the Camino Real and into Santa Fe in the 1600s. We'll drink to that. In all, Santa Fe's Margarita Trail has 31 bars and restaurants offering up their signature margaritas. If you're in Santa Fe, you can get a margarita map to guide you. Otherwise, we've rounded up the best spicy and smoky margaritas on the trail that you can make at home.
Strawberry-Jalapeno Margarita 
Pink drinks are usually overly sweet. Not in this case. The tart pomegranate juice combined with strawberries helps tame the spice from the jalapeno in this margarita recipe from Luminaria Restaurant & Patio.
Ingredients
Directions: Remember to use gloves when handling a jalapeño. 
To make the puree, blend a small jalapeño (or a portion of one if you want it less spicy) with a few strawberries in a food processor. 
Mix all ingredients except the garnish. Serve over ice in a salt-rimmed glass and garnish with a fresh strawberry and slice of jalapeño.
MORE: How to Make the Perfect Margarita
Santa Fe Trail Margarita
Bartenders at Del Charro put a Santa Fe spin on margaritas by first infusing a bottle of Double Barrel Tequila Reposado from Casa Herradura with green chiles.
Ingredients
2 oz. green chile-infused tequila
1 oz. Cointreau [get it delivered by Drizly, from $26]
1 oz. fresh squeezed lemon juice
1 oz. fresh squeezed lime juice
.5 oz. agave nectar
1 Tbsp green chile powder
1 Tbsp red chili flakes
1 Tbsp kosher salt
Green chile for garnish
Directions: 
Start by infusing your tequila. 
Roast, peel, and split four to five green chiles and combine them in a 750-ml bottle of Double Barrel Tequila Reposado from Casa Herradura (get it delivered by Drizly, from $50) in an airtight, sealed container. Allow about five days for the infusion process. 
For the rim, combine the green chile powder, red chili flakes, and kosher salt. You can line the rim of your glass by using a dab of lemon or lime juice and then rolling the rim with the chile-salt mix. 
To make the margarita, combine the infused tequila with Cointreau, freshly squeezed lemon and lime juices and agave nectar, shake and strain into the chile-salt rimmed pint glass with ice. 
Garnish with a green chile.
Smoked Sage Margarita
The ingredient list on this margarita recipe from Secreto is short, but to get this one right you've got to trap the smoke in a shaker glass, which requires a little extra effort, but is worth it.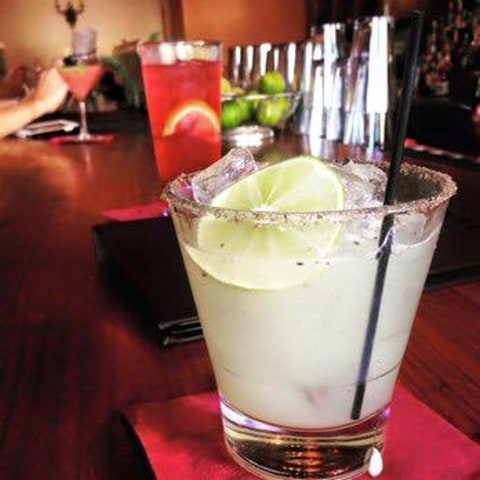 Ingredients
Directions: 
Combine the tequila, orange liqueur, and lime juice in a pint glass and set aside. 
Take a piece of semi-dried sage and use a lighter to burn it for two to three seconds. Bartender Chris Milligan does this by using three metal shaker glasses arranged as a pyramid, with two as a base and one on top, smoking the sage underneath the top glass and letting the top shaker glass trap some of the smoke. 
Then, drop the sage into the margarita mix and add ice. Shake the pint glass that your margarita mix is in with the now-smoky metal shaker so it infuses the cocktail with the smoke. 
Double strain the margarita to help eliminate the ash and pour the drink into a glass that's filled with ice and has a salted rim. Secreto uses a hickory-smoked salt rim for its signature drink.
back to top