The Ultimate New England-Style Clambake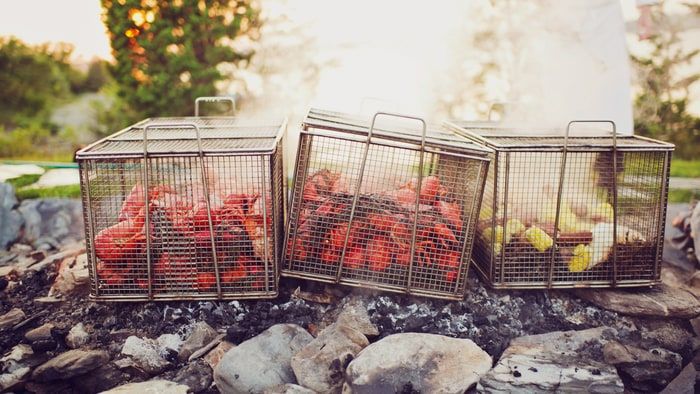 Credit: Courtesy Castle Hill Inn
The holy Louisiana tradition that is the crawfish boil is one hell of a messy ordeal. Its saving grace? You don't really need a culinary school degree to pull off a tasty feast, let alone more than rudimentary cooking skills. Clambakes, by contrast, are not quite so easy. You'll need to cook over fire. You'll need cloth tarps, burlap, and an adventurous spirit as resilient as Nick Offerman's. Yet the reward is bountiful: an intoxicating smell that lingers for hours, the smug satisfaction that comes from foraging dinner like a caveman, and a one-pot wonder your friends will beg you to turn into an annual tradition.
RELATED: The First Fried Clam Recipe
Take it from Rhode Island's storied Castle Hill Inn, a Newport icon overlooking the harbor, that has been throwing summer clambakes for years (in fact, their clambakes are inspired by the Wampanoag and Narragansett tribes' hundreds-of-years-old customs). So set up that fire pit and gather your ingredients — there's still enough time to give summer a proper send-off.
New England Clambake 
Serves 12
Ingredients
12 lobsters

6 lbs chorizo sausage

12 ears fresh corn, shucked

24 Quahog clams

24 red bliss potatoes

5 lbs rockweed, or similar fresh seaweed

Melted butter, as needed

Sea salt, as needed

Wood, as needed

Cloth tarps (2) and burlap (4), soaked in saltwater
Directions
Start a hardwood fire about two hours before the cooking begins, and allow the wood to burn down to white coals.

Load the cages. Use stainless steel cages, but if unavailable, cook directly on the rockweed. Layer the ingredients in a specific order (this is important): start with the potatoes, then add the Quahogs, chorizo, followed by the corn, one quarter of the rockweed, and finally add the lobsters on top. This will ensure everything cooks evenly, as the heat varies in the pit.

When the wood has burned down to hot coals, rake the coals to one even layer, and spread the remaining rockweed over the top. At this point, add the cages to the pit.

Cover the cages first with the soaked burlap and then the tarps, sealing the perimeter with rocks to help trap the heat. Spray the tarp with water every 10–15 minutes, or as necessary, to prevent flare-ups. Take extra care where the tarp meets the pit.

Continue cooking the lobsters for 45 minutes. Unveil the cages, removing the tarps and burlap. Remove the cages from the heat and carefully unload the contents. Separate the vegetables, chorizo, and lobsters. Toss the potatoes and corn in melted butter and sea salt.
Recipe courtesy of Executive Chef Lou Rossi, The Castle Hill Inn
back to top