This Six-Blade Razor Is A Real Beast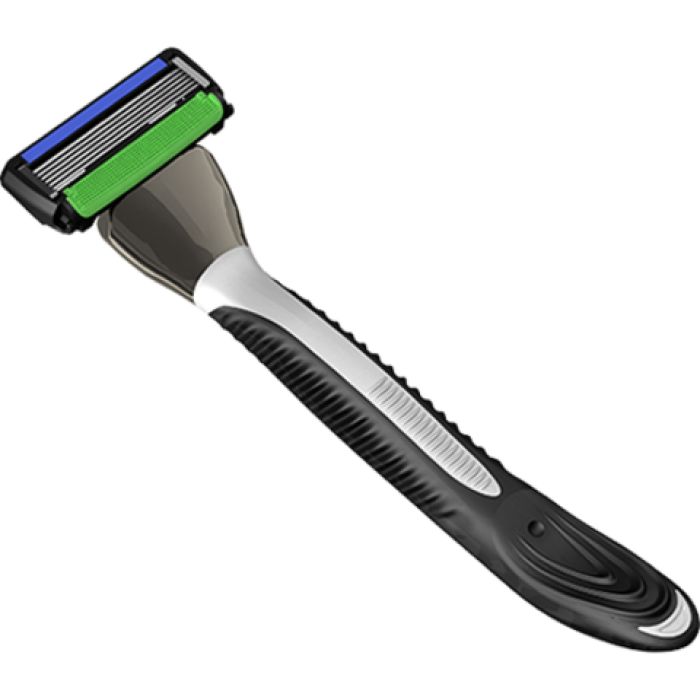 To apply a line from John Steinbeck's Sweet Thursday to the world of grooming, shaving "is the foundation of man's greatest curse, and perhaps his greatest glory." Admiring your clean shave and slapping on aftershave may be one of life's finest pleasures, but it sure can be a hell of a time to get there.
Enter The Caveman from ShaveMOB, a rising competitor to Dollar Shave Club. If you're dealing with a full beard or thick, stubborn hair, The Caveman — as low as $1.37 a month per cartridge, depending on the quantity you order — is a veritable beast. (If you'd like to add on a trimmer, shaving set packages go down to $1.58 per cartridge.) The razor, smartly engineered to prevent hair clogging between blade gaps, features six blades and a moisturizing strip with aloe, vitamin E, and chamomile to hydrate your skin. Of particular use is its pivot head, a plus for eliminating stubble or even grooming sideburns. To help avoid irritation, we're also big fans of the cartridge's built-in rubber fin, which helps prevent ingrown hairs and nicks. And all ShaveMob blades are made from stainless steel and coated in a blend of PTFE resin and chrome, a bonus if you want a long-lasting blade — an individual cartridge should last the average shaver around two weeks.
While ShaveMOB is not a traditional a subscription service; simply choose a two, six, or a 12-month supply along with your blade type, and products arrive when you need them, not on an arbitrary monthly or weekly schedule. Even better? Unlike many subscription services that come wrapped in layers of insulation, packaging, and excess collateral, ShaveMOB boasts a minimum of wasted retail packaging to keep their environmental footprint to a minimum. 
ShaveMOB
back to top